Welcome To Theatre Palisades
Get Tickets
Donate
Become A Member
Season Subscription
Into every theatrical production a little drama rains down, but we have had a monsoon. Cast changes, covid protection and a plethora of other things led us to postpone the opening of Nunsense and, at the same time, we are adding more shows for a total of 12 performances.
Nunsense will now open on September 9th and run through October 2nd. We have added Fridays so the performances will take place every Friday and Saturday at 8:00pm and Sundays at 2:00pm.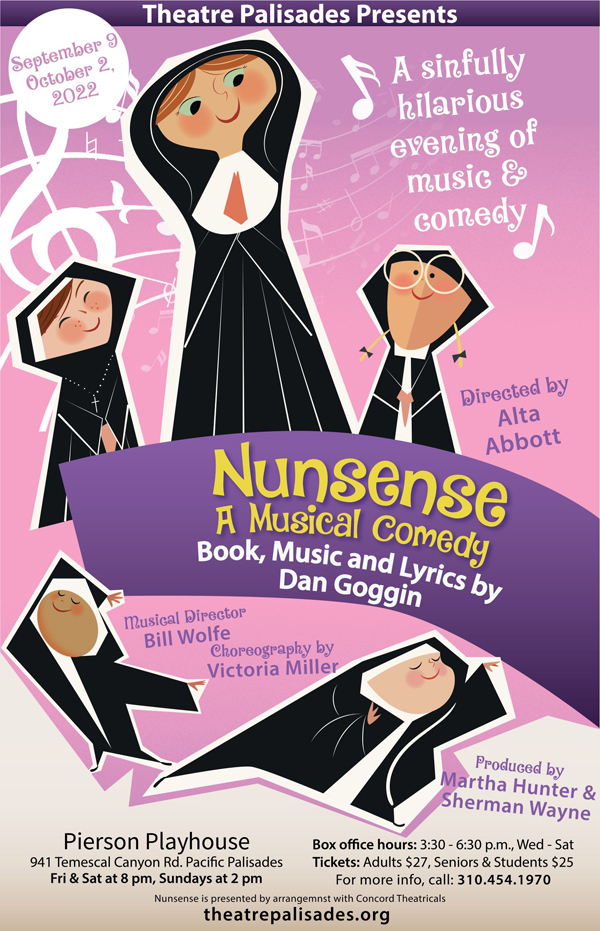 Get Tickets
COVID-19 Rules and Requirements for attending Theatre Palisades
The health and safety of patrons, our staff and artists inside and outside our venue are a top priority for Theatre Palisades, which is requiring all patrons to provide, upon entry, proof of full vaccination, including proof of a booster shot, or a negative PCR test result within 48 hours or a verifiable Antigen test within 24 hours from your performance date, along with a government issued photo ID. Facial masks, covering both the mouth and nose, are still required at all times while within the venue. Theatre Palisades health and safety protocols are also subject to change at the venue's sole discretion or in accordance with LA County and Los Angeles City.
Thank you for your patience and continued support!
~ Theatre Palisades Board of Directors
Updated: 1/12/2022
Home Page